Welcome to our 34th Season!
Concert tickets are $20 general admission. Ages 18 and under may attend at no charge. Tickets are only available at the door on the day of the concert. (We do not sell tickets in advance.)
Liturgical events are offered at no charge, although a freewill offering is taken during the services.
Season donors may request reserved seating up to 24 hours before concerts. For information on becoming a season donor, visit the Donate page.
Please note: Under Title II and Title III of the Americans with Disabilities Act, Music at St. Paul's welcomes certified service animals to our concerts and events. Pets, emotional support animals, and comfort animals, however, are not permitted.
Don't Miss a Note™ 
With our camera and screen technology, you can sit anywhere at a Music at St. Paul's concert and have the best seat in the house. Camera close-ups of pianists' fingers and wide shots of full ensembles make your seat the best seat!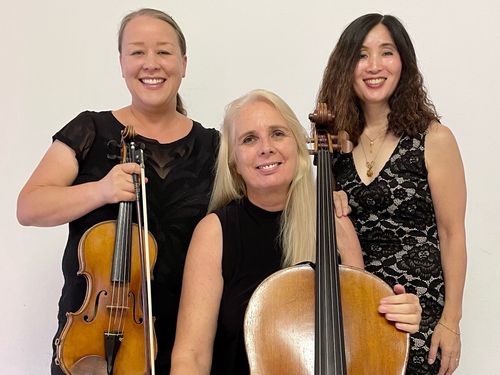 Sunday, September 18, 2022, 3 pm
Trillium Piano Trio    
The Trillium Trio consists of pianist Yoko Sata Kothari, violinist Ruby Berland and cellist Cornelia Brubeck.  Known for their "dazzling interpretations" this group is well known in the tri-county area and on the national stage.
PROGRAM
Piano Trio in one movement in B-flat, D. 28 (Schubert) 
Piano Trio No. 3 in c minor, Op. 1, No. 3 (Beethoven) 
Piano Trio No. 3 in f minor, Op. 65, B 130 (Dvorak)
Sunday, October 2, 2022, 3 pm
Con Brio Quartet   
with Stojo Miserlioski, clarinet 
Consisting of members from around the world, this world-class quartet is familiar to Palm Beach County audiences. This program will feature clarinet quintets by Mozart and Brahms.  
 "The Con Brio String Quartet was an outstanding addition to our concert series.  They offered an inspiring, diverse, and compelling program that was executed with top-notch artistry.  We look forward to their return."  
PROGRAM
Brahms - Clarinet Quintet In B Minor, Op. 115   
Mozart - Clarinet Quintet in A major, K.581