32nd Season Music at St. Paul's
T-Shirts!
Available in light and dark colors from Amazon.com. Show your Music at St. Paul's pride with a 32nd Season T-Shirt!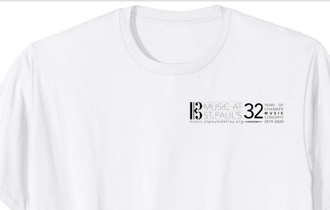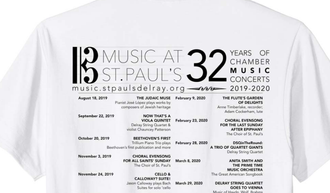 Sunday Concerts
$20 general admission
18/under FREE
Tickets are only available at the door on the day of the concert. We do not sell Sunday tickets in advance.
Season contributors may request reserved seating up to 24 hours before concerts. For information on becoming a season donor, visit the Donate page.
Friday Concerts
DSQinTheRound
Limited, reserved seating only
$50 front row
$40 second & third row
Liturgical Events
Free 
Liturgical events are offered at no charge, although a freewill offering is taken during the services.
Reserved seating is not available.
Please note: Under Title II and Title III of the Americans with Disabilities Act, Music at St. Paul's welcomes certified service animals to our concerts and events. Pets, emotional support animals, and comfort animals, however, are not permitted.